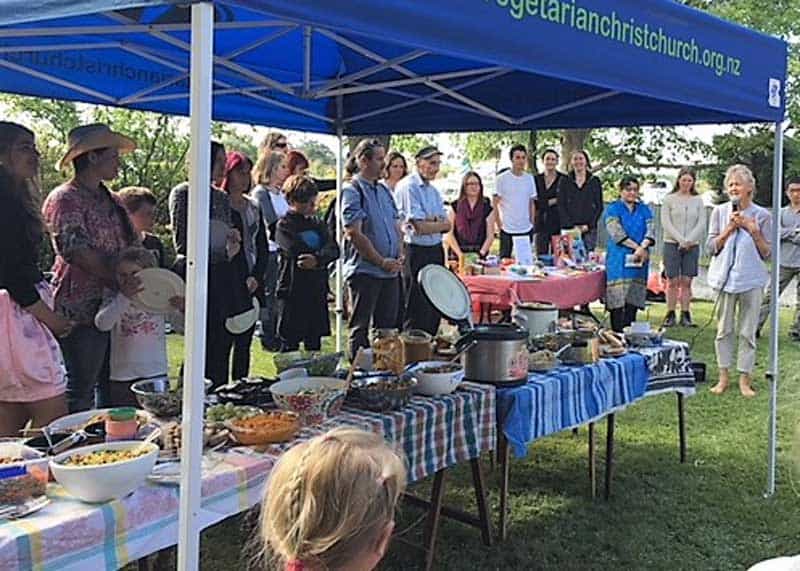 Wyenova Annual Christmas Party
All the veggie groups in Christchurch come together at Wyenova Organic Farm once a year to eat, explore the farm and meet each other. Everyone is invited and of course you can bring friends and family.
This is a family friendly event with many activities for the children. There are tractor rides, games and a visit from Vegan Santa.
This will be held rain or shine at 4pm on Saturday, December 5, 2020, at Wyenova Organic Farm, 740 Waterholes Rd, Broadfield. (Follow Main South Rd, past Templeton, first turn left onto Waterholes Rd. Wyenova is 2.5km on the left. Look for the balloons on the letter box).
Bring a vegan dish (enough food for all the people you are coming with) to share, and your plate, cutlery and own drinks. We will have tractor rides, exploring the farm and meeting Santa first, dinner at about 5.10pm.
If you would like Santa to give your child a gift, please bring a wrapped and clearly named present for him/her to go into Santa's sack. Maximum value $5. Please, no lollies. We're not saying that Santa is not real, rather, he just needs a helping hand on
this day!
SCHEDULE:
4pm to 4.50pm: Farm walks, tractor rides, water slide (On arrival please put savoury dishes on the tables outside or in the kitchen if they need reheating. All desserts to the kitchen) Please hold onto your plate, drinks and cutlery. Herbal teas available from the kitchen at any time.)
4.50pm to 5.10pm: Santa
5.15pm: Welcome and meal blessing, dinner (there will be a break between dinner and dessert to draw the raffle and to allow for cleaning up), dessert (Please note timings are approximate.)
Then you are welcome to linger, walk to the native reserve, play or say goodbye as you like. The party usually ends by 7.30pm. Don't forget to take all your dishes and bits and pieces home with you afterwards.
This farm is owned by Vanya Maw who runs the farm on veggie and organic principles. All the animals on the farm are rescued and will never be eaten.
Help Vanya – if you see any of the children throwing stones from the driveway onto the lawn, please nicely ask them not to and help them put the stones back as Vanya has to pick these up by hand afterwards when she mows the lawn. Also, parents please ensure your child is supervised at all times on the farm.
Christmas shopping – don't forget that the Christchurch Vegan Society sells a few things (cookbooks, badges, notepads, key rings and Christmas cards etc) if you are looking for special Christmas gifts. We will have a stall on the day and we will be selling and drawing our annual raffle at the party so bring some spare change to buy a ticket.