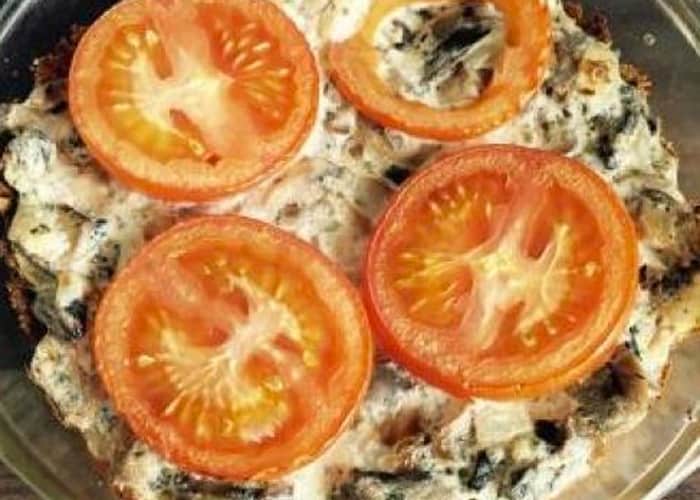 Ingredients
Base:

125gm soft breadcrumbs
125gm ground nuts
50gm margarine
125gm flaked almonds/pine kernels/hazelnuts
1 garlic clove, crushed
½ tsp mixed herbs

Topping:

500gm mushrooms, sliced
50gm margarine
2 heaped TB flour
400ml (more or less) soy milk
salt and pepper to taste
grated nutmeg
4 tomatoes, sliced
1 TB chopped parsley
Instructions
Make the base by mixing together the breadcrumbs and ground nuts. Rub in the margarine as for pastry. Add flaked almonds and mix.
Then add garlic and herbs. Mix well, then firmly press down in a flat ovenproof dish or Swiss roll tin.
Bake in a hot oven 230C for 15-17 minutes until crisp and golden.
For the topping, saute the mushrooms in margarine until tender, add flour, stir and remove from the heat. Stir in the soy milk, return to the heat and stir as it thickens.
Simmer for 10 mins on low. Season. Spoon mix on top of the base, top with tomatoes.
Bake for 10-15 minus to heat through. Top with parsley.
NB. if you don't like mushrooms, make the topping by replacing the mushrooms with 2 cups of finely sliced leeks and corn kernels. Add 2 tsp of vegetable stock powder.
7.8.1.2
3
https://veganchristchurch.org.nz/croustade-of-mushroom/