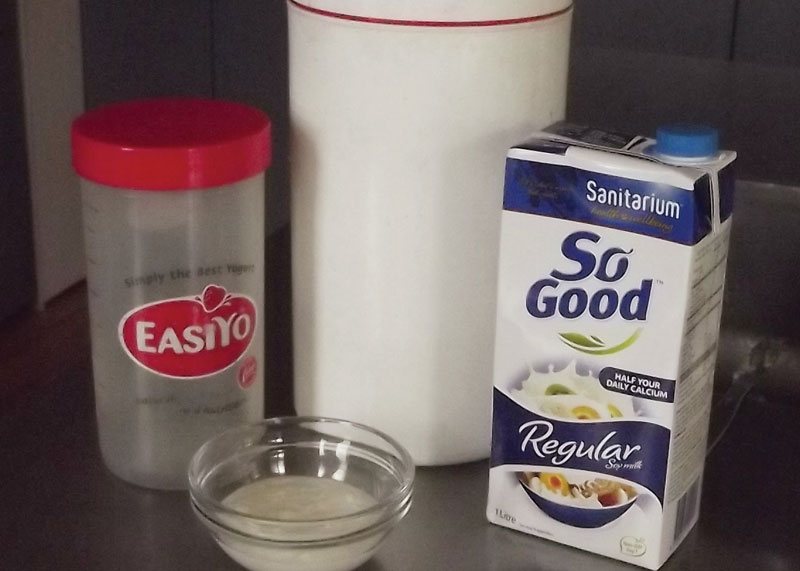 Ingredients
Making soy yoghurt

3 tbsp plain soy yoghurt (store bought or use from previous batch)
1 litre soy milk

Making coconut yoghurt

900ml Kara coconut cream
2 heaped tsp coconut sugar (or any sugar)
2-3 tbsp plain coconut yoghurt (store bought or use from previous batch)
Instructions
Mix the yoghurt and milk (at room temperature) in the 1 litre plastic container.
Fill the EasiYo flask up to the line with boiling water and place the container of milk inside.
Put the lid on and incubate at least 12 hours at room temperature.
Place yoghurt in the fridge for at least 1-2 hours. You may notice some liquid separating from the culture-you can either pour this off or mix it back in, as it is nutritious.
Notes
Note: any kind of So Good soy milk will work as does Pure Harvest unsweetened, malt-free soy milk. If making coconut, buy the Kara 1 litre coconut cream packet as canned doesn't work.
MAKING THE NEXT BATCH Remember to leave at least 3 tablespoons of your last batch to start the next one. If the culture dies, then start over with more purchased vegan yoghurt.
7.8.1.2
44
https://veganchristchurch.org.nz/making-yoghurt/